So you have the wedding planned… wedding dress is made.. wedding venue is booked.. and you think all the big planning is done! All you need to do now is to meet with me (either in person, Skype, phone or email) so we can discuss the other 1000 smaller things that needs to be done for your big  day!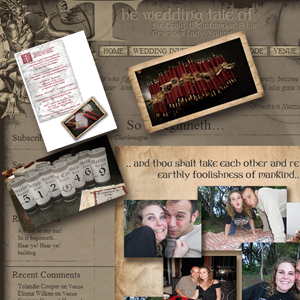 Wedding Invitations:
I can assist with custom (hand-made) wedding invitations that look professional and will fit in perfectly with your dream wedding theme. Why spend thousands having something printed that looks very impersonal?
Wedding favours & decor:
I can assist with anything from
handmade favours
packaging your purchased favours to fit the theme of your wedding
table decor
table arrangements
table menu's
reception maps
Wedding Website:
I like to start the wedding website with your own personalised web domain – which is included in the annual hosting fee of only R770!
I would then post regular updates prior to the wedding as you make your wedding plans. Photos and a post regarding your bachelorettes and bachelors will make for some fun memories and can also be there for the rest of your guests who couldn't attend! You have the option to include any of the following:
Electronic invitations (will best match your printed one's if you did not order hand-made from me)
Wedding Countdown
Live weather forecast for the day
Google Map
Guestbook
Facebook page with live feeds
After the wedding your photographer is welcome to send me photos of the wedding which will be uploaded in your wedding gallery.
Of course- you have the option to include some fun honeymoon pics also!
Prices available on request!